David Haines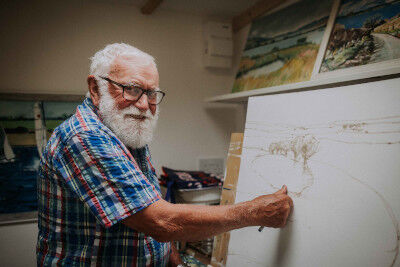 Click, press click, click and click again... yet more photos on our phones of people, parties and holidays. Of days by the seashore, of views along the canals of Venice, New York City and the Sydney Harbour Bridge.
A photograph captures a moment in time, a precious moment to look back on during the dreary days of our English Winter perhaps.
A painting does more than that I think. The Artist Should try to capture the mood of the person he is painting or landscape he is trying transpose onto the blank canvas. Something I have always tried to do during this short life of ours. Delving more deeply into the colours, lights, shades and shapes that all construct the images of the world around us.
My studio is set in a beautiful Garden on the edge of Oakham where time is spent, care is taken and a contemplative mood can be found. Do come and linger for a while, enjoy it.
There are many paintings to see of the Irish sea shore, Scotland and our much loved Rutland Water plus the Industrial world that is never far away from us.
t: 01572 345854 m: 07769 926319
e: davidhaines1@btinternet.com
FB: David Haines / Instagram:
davidhaines_artist
Rutland Open Studios Art Trail 2023
exhibition address:
195 Brooke Road, Oakham. LE15 6HQ
Dates: 9 - 10 & 16 - 17 September
Time: 11am - 4pm